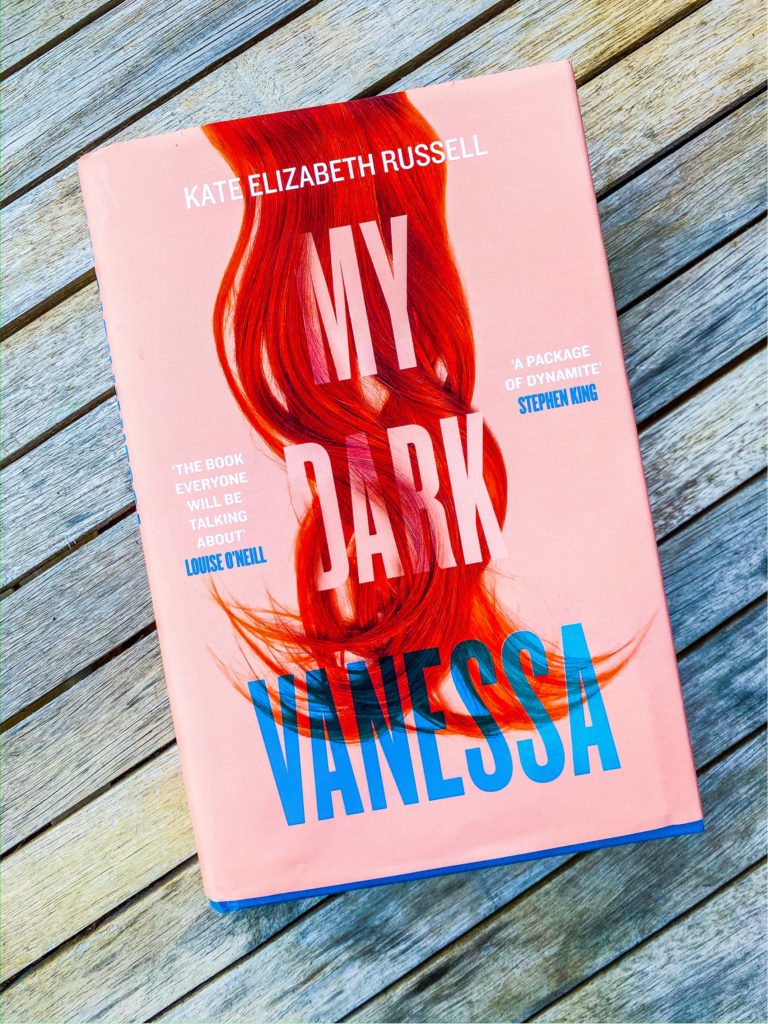 "I just really need it to be a love story. You know? I really, really need it to be that."
"I know," she says.
"Because if it isn't a love story, then what is it?"
When I read the synopsis for My Dark Vanessa back in July, I knew I had to read it. Turning Lolita on its head, Kate Elizabeth Russell writes a timely and relevant novel that chillingly brings the topic of grooming and child sexual abuse to the forefront of our realities. This is not a typical review by me, but this book is not your average book and it will shake you to the very depths of your core.
Alternating between the pop-cultural references of early 2000s and the present day #MeToo movement, we meet 32 year old Vanessa as she opens up her social media to discover accusations of sexual abuse from a number of former students towards her 27 years senior English teacher, Jacob Strane, with whom she previously had a relationship. On the surface, she discards the accusations asserting them to be untrue while ironically gripped by them as the story gains traction attracting the attention of local media. She insists Strane is not such a man, that he could not have done this, that this is an attention-seeking, publicity stunt bolstered by MeToo. She only knows him as the man that loved her and who shared her darkness – they are a love story. Yet as we revisit her time at the boarding school where she met him as a girl suffering from the loss of her closest friend, theirs is not the love story she so ardently believes it to be. Vanessa is forced to confront the perniciousness of her reality and, as we learn from the quote above, its lasting and profoundly damaging impact on her ability to move on from what she perceives to define her so definitively.
For a work of fiction, My Dark Vanessa almost feels as if it's happened already. And hasn't it? How many times have we heard stories of paedophilia, grooming, sexual abuse and rape of teenage girls by older men? And yet, how often have they been brushed under the carpet or portrayed as a love story just like the heavily featured novel, Lolita, was? Kate Elizabeth Russell's writing carries a note of an acute authenticity evoking emotions that every woman will have felt as a teenager, even if she wasn't raped, but has still experienced unwanted sexual attention. Amidst addressing some deeply uncomfortable themes manoeuvred with skilful tact, My Dark Vanessa is a voyage of a girl who, in spite of the grooming, somehow manages to call out for help and is not only failed by those who were meant to safeguard her, but also shamed – a very raw early experience that teaches Vanessa that she, as a victim, is at fault in a society that actively undermines women.
Again and again, Vanessa is thrown back into the arms of her manipulative abuser, the man who continues to contort the truth. Told entirely through Vanessa's perspective, there are many key, topical issues that are handled with nuance. Strane insists he always asked for her consent, for her to say yes addressing the very reductive narrative that even in a relationship that is so heavily skewed in favour of the one who is more likely to be believed by virtue of their age and/or reputation, saying yes is enough. The reader is implored to re-evaluate the concept of consent by taking other factors beyond mere assent into account.
In spite of the hold Strane has on her, there is hope for Vanessa as age and progress into university takes her out of the sheltered life of school and her parents. While still very disempowered and confused by the toll abuse has taken on her, she is lucid and begins to articulate that she was raped, even questioning Strane, although still unable to internalise it. Marred by her past, Vanessa struggles with seemingly simple interactions with other professors believing herself to be the seducer, and attempting to reconcile the dynamics of a romantic relationship between a college student and a professor with what she endured as a child.
While ending on a high note, the story does not end with a satisfying victory for women and victims of sexual abuse – Vanessa doesn't embrace the solidarity of sisterhood nor does she reveal the depth of her trauma to the public. Indeed, she is a victim, but she owes it to herself first to confront the truth of her harrowing past, remove the shackles that hold her so firmly to it and find the person she can be in order to move forward. Laying bare the immense emotional and mental risk involved in disclosing sexual abuse and the insincerity of some journalists, Russell asserts that choosing self-preservation does not and should not equate to a selfish betrayal of womanhood.
In spite of the disturbing content, each page of My Dark Vanessa is captivating and so impeccably written that I read it within 3 days during this period of isolated homeschooling. Each character is complex yet realised to their full potential – Strane is a cunning and emotionally manipulative predator while Vanessa remains a talented writer in spite of her trauma. Troubling as they may be, the earlier chapters are important and need to be gradually absorbed. This is not a violent novel, but there is a uniquely gentle clarity with which Kate Elizabeth Russell writes that will leave you without a shadow of a doubt that Vanessa is targeted, groomed and repeatedly raped.
Praised as 'the book everyone will be talking about', it's imperative that My Dark Vanessa be on the reading list for discussions and analysis on child sexual abuse, grooming and rape in fiction. Not only is it thought-provoking, the emotional honesty the story bares will force the reader to introspect on their own biases and assumptions. On a very personal note, I struggled to sleep after reading My Dark Vanessa due to the conflicting emotions it arose in me forcing me to reconsider my own woeful understanding.
Was I looking for a dark and gripping story? No. Is this a story I wanted to read? No. But is it one I needed to read? Yes.
And so should you.
I purchased my copy of My Dark Vanessa from Hive.co.uk, which supports independent booksellers with every single sale they make.
Publisher: 4th Estate
ISBN: 2928377001131
Number of pages: 384