I know I'm really late for my October wrap-up, but I have a LOT to cover!
Who thought October felt like the Monday of the year? It seemed to go by so slowly and I wondered when it was going to come to an end. Of course, this worked to my advantage as I somehow managed to surpass my usual reading speed and finished 8 books. I put this down to using my Kindle for many of the books I read and it made quite a difference to the number I got through. I'm not quite sure how I read so many books given the disruption going on in my home with the kitchen and bathroom being ripped out!
1. Family for Beginners
Synopsis
New York florist Flora Donovan is living the dream, but her bubbly optimism hides a secret. She's lonely. Orphaned as a child, she's never felt like she's belonged anywhere…until she meets Jack Parker. He's the first man to ever really see her, and it's life changing.
Teenager Izzy Parker is holding it together by her fingertips. Since her mother passed away a year ago, looking after her dad and little sister is the only thing that makes Izzy feel safe. Discovering her father has a new girlfriend is her worst nightmare—she is not in the market for a replacement mom. Then her father invites Flora on their summer vacation…
Flora's heart aches for Izzy, but she badly wants her relationship with Jack to work. As the summer unfolds, Flora must push her own boundaries to discover parts of herself she never knew existed—and to find the family she's always wanted.
I Thought…
Complex family dynamics with a surly teenager turned out to be surprisingly warm and light yet enough of a slow burn read to give me something to look forward to each time I picked it up.
2. Odd Bird
Synopsis
Simon Selwood is an academic expert on the monogamous sexual behaviour of birds, but hopeless at finding human love. Then he meets Kim, and at last something is more important to him than ornithology.
Kim doesn't give a hoot about birds. And at first she isn't very interested in Simon either. Relying on what he has gleaned from observing the opportunistic pied flycatcher and other species, plus the unorthodox advice of old friend Phil, Simon sets out on a mission to discover love for himself.
But will he make the right choice?
Odd Bird takes a light-hearted look at the battle of the sexes, drawing on the surprising parallels between the courtship behaviours of humans and birds.
I Thought…
Funny and interesting, you'll be a little thrown by the twist this book takes. Read my review of Odd Bird here.
3. Three-Fifths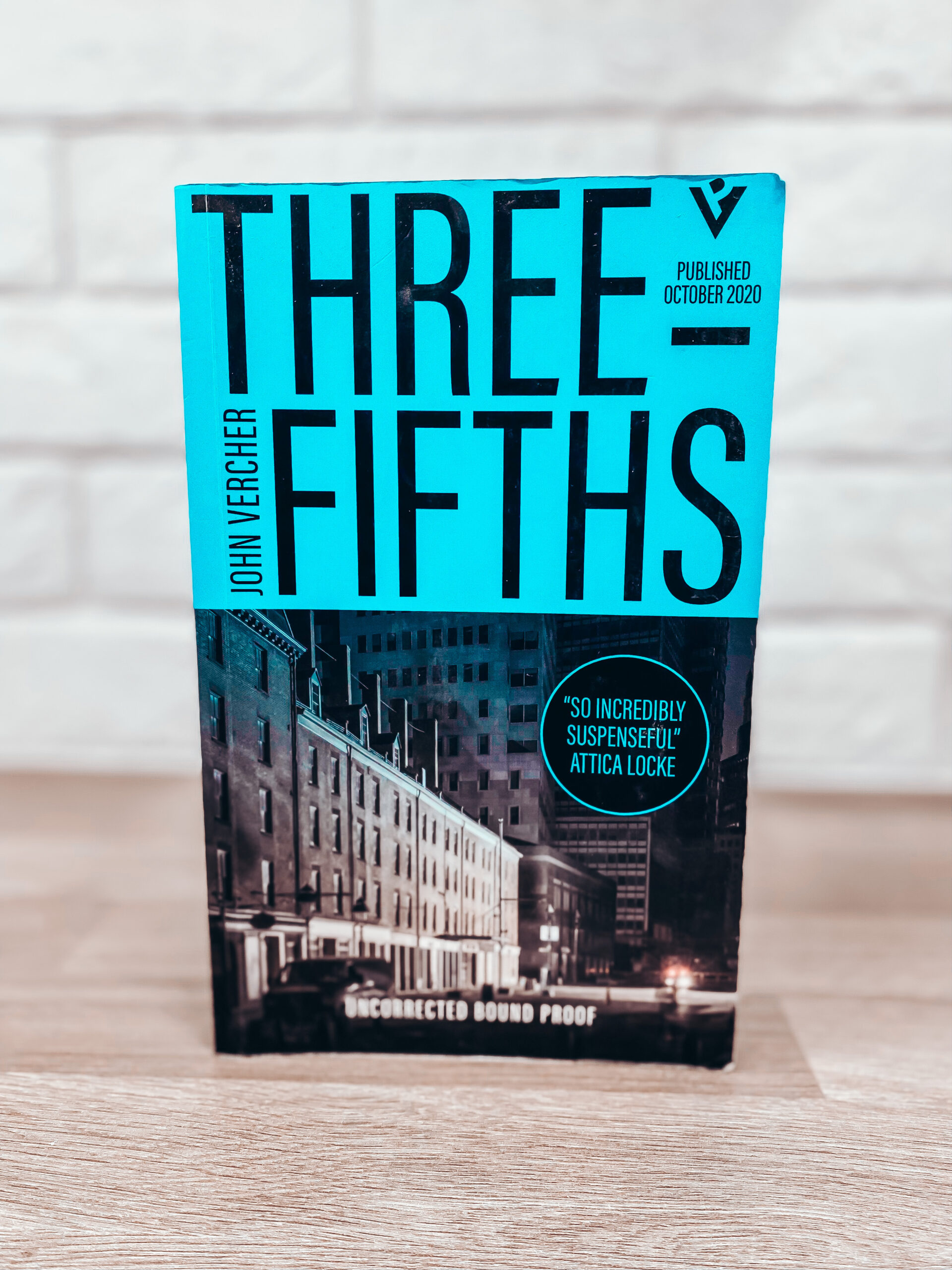 Synopsis
Three-Fifths is about a biracial black man, passing for white, who is forced to confront the lies of his past while facing the truth of his present when his best friend, just released from prison, involves him in a hate crime.
Pittsburgh, 1995. The son of a black father he's never known, and a white mother he sometimes wishes he didn't, twenty-two year-old Bobby Saraceno has passed for white his entire life. Raised by his bigoted maternal grandfather, Bobby has hidden the truth about his identity from everyone, even his best friend and fellow comic-book geek, Aaron, who has just returned home from prison a newly radicalized white supremacist. Bobby's disparate worlds crash when, during the night of their reunion, Bobby witnesses Aaron mercilessly assault a young black man with a brick. Fearing for his safety and his freedom, Bobby must keep the secret of his mixed race from Aaron and conceal his unwitting involvement in the crime from the police. But Bobby's delicate house of cards crumbles when his father enters his life after more than twenty years, forcing his past to collide with his present.
I Thought…
Utterly engrossing, this urban crime thriller left me heartbroken but it's still a must-read.
4. The Deep Blue Between
Synopsis
When their village is torched down, 10 year old twin sisters Husseina and Hassana are not only torn away from their family but also each other leading them to find new families in new lands. Yet they never cease to forget each other while their shared dreams keep them connected as one twin resides in Brazil and the other on the Gold Coast of West Africa. As the years pass by, their yearning to find the other never ceases.
A heart-wrenching story of twin sisters thrown apart and divided for years by the stretch of the sea that'll teach you more than you thought you knew.
I Thought…
An education in post-colonial lands suffering from the impact of slavery in this sisterly, coming-of-age tale. You can read my full review of the book here.
5. Keeping Mum
Synopsis
Danny Malooley's life is falling apart.
He's a single parent with an eleven-year-old son, Will, who hasn't spoken since the death of his mother in a car crash fourteen months ago. He's being pursued by a dodgy landlord for unpaid rent and, to make matters worse, he's just lost his job on a building site. Struggling to find work, and desperate for money, Danny decides to do what anyone in his position would do.
He becomes a dancing panda.
After seeing street performers in his local park raking it in, he puts all sense of pride aside and spends his last fiver on a vomit-ridden costume… only to discover that the humiliation of his terrible rhythm is worth it. Not because he's flush with cash (quite the opposite) but Will has finally spoken to him for the first time since his mother's death. The problem is Will is unaware that the panda is in fact his father, and Danny doesn't want to reveal his true identity in case Will stops talking to him. But Danny can't keep up the ruse forever.
I Thought…
Simultaneously heartbreaking and hilarious, I cried and laughed reading this. There aren't enough stars to showcase its brilliance and I look forward to the next instalment of Danny and Will's adventures.
6. No Filter
Synopsis
At its heart, No Filter draws on unprecedented exclusive access—from the founders of Instagram, as well as employees, executives, and competitors; hedge fund billionaire Ray Dalio; Anna Wintour of Vogue; Kris Jenner of the Kardashian-Jenner empire; and a plethora of influencers, from fashionistas with millions of followers to owners of famous dogs worldwide—to show how Instagram has fundamentally changed the way we communicate, shop, eat, and travel. The book brings readers inside users' strategies to craft their personal image and fame, explaining how the company's product decisions have affected the structure of our society. From teenagers to the pope, No Filter tells the captivating story of how Instagram not only created a new industry but also changed our lives.
I Thought…
Insightful and detailed, this was an eye-opening book for myself who uses Instagram on a daily basis.
7. Olive
Synopsis
Olive is many things, and it's ok that she's still figuring it all out, navigating her world without a compass. But life comes with expectations, there are choices to be made, boxes to tick and – sometimes – stereotypes to fulfil. And when her best friends' lives start to branch away towards marriage and motherhood, leaving the path they've always followed together, Olive starts to question her choices – because life according to Olive looks a little bit different.
I Thought…
I found Olive resonated with me a little bit and loved the friendships in the book. An interesting premise!
8. The Girl With The Louding Voice
Synopsis
Adunni is a fourteen-year-old Nigerian girl who knows what she wants: an education. This, her mother has told her, is the only way to get a "louding voice"—the ability to speak for herself and decide her own future. But instead, Adunni's father sells her to be the third wife of a local man who is eager for her to bear him a son and heir.
When Adunni runs away to the city, hoping to make a better life, she finds that the only other option before her is servitude to a wealthy family. As a yielding daughter, a subservient wife, and a powerless slave, Adunni is told, by words and deeds, that she is nothing.
But while misfortunes might muffle her voice for a time, they cannot mute it. And when she realizes that she must stand up not only for herself, but for other girls, for the ones who came before her and were lost, and for the next girls, who will inevitably follow; she finds the resolve to speak, however she can—in a whisper, in song, in broken English—until she is heard.
I Thought…
There aren't enough words to describe how much I loved The Girl With The Louding Voice!
Have you read any of these? Let me know in the comments or on social media!