In the depths of a small Louisiana town live twin sisters, Stella and Desiree Vignes. They are no ordinary twins because Mallard is no ordinary town. Founded on the values of colourism where having light skin as a result of mixed backgrounds is greatly valued and dark complexions are diluted over the years to the time of The Vanishing Half where we meet the founding father's lineage in the form of the Vignes twins.
Feeling stifled by the slow and restricting pace of life, 16 year old Stella makes plans to run away with Desiree. Years later, Desiree returns to Mallard with a Black child in tow and a town gossiping that such a child possibly couldn't be hers. Stella, on the other hand, has chosen to pass as a White woman and lives her life with her family unaware of her origins. She, too, has a daughter. The Vanishing Half spans decades through the lives of both sisters who continue to live exclusive existences until, one day, their daughters' lives collide and everything begins to unravel.
My Thoughts
What can be said about The Vanishing Half that hasn't been said already. Having never read Brit Bennett's previous books, her immersive writing style was one of the first signs that I was onto a winner of a book. She writes with prodigious skill and from the first few pages, I found myself being drawn in without realising.
The Vanishing Half bares the shattering consequences of racism and that to be White for a White-passing person of colour with an ambiguous appearance doesn't take much more than them merely embodying the behaviour of Whiteness. It further exposes the opportunities that open up for Stella when she identifies as a White woman and the cavernous differences in the quality of life that are afforded to her that are denied to Desiree. It's also interesting to see how Jude is treated by the residents of Mallard as a Black girl growing up in a town of light-skinned people with Black heritage.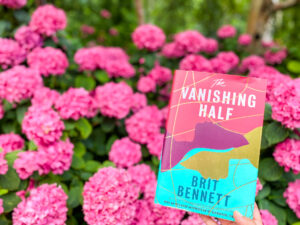 I was intrigued at Bennett's ability to flesh out Kennedy's life path and how it was contrasted with Jude's with the underlying message that bolstered by wealth and opportunities built up over the years, White people are able to embark on careers that lack job security and even if it results in mediocrity, their inherited family wealth is something to fall back on. This entire story arc was written exquisitely to illustrate an important point that's relevant to us even today.
Stella's path in the book is the most interesting and her cognitive dissonance is apparent in many ways. Her determination to keep up the lie she's been living for 40 years and isolate herself is a result of being unable to leave the prison she's built around herself in spite of making strides in other areas of her life.
Brit Bennett has woven so many relevant issues in the story and when we juxtapose Reese's life with Stella's, it's evident that he's the one that's better off being upfront about his truth.
The Vanishing Half has been compared to Toni Morrison's work, and I can see some of the overlaps it may have with The Bluest Eye, but it's a work of its own that my children's generation will come to view in the same way my generation view Toni Morrison's books.  There's so much to say that I know my review won't do the book justice.
Mesmerising and breathtaking, The Vanishing Half is soul-crushing but will have you wanting to savour every single word to the very end.
I purchased my copy of The Vanishing Half from Waterstones. You can buy it here.
Publisher: Little, Brown Book Group
ISBN: 9780349701950
Number of pages: 352