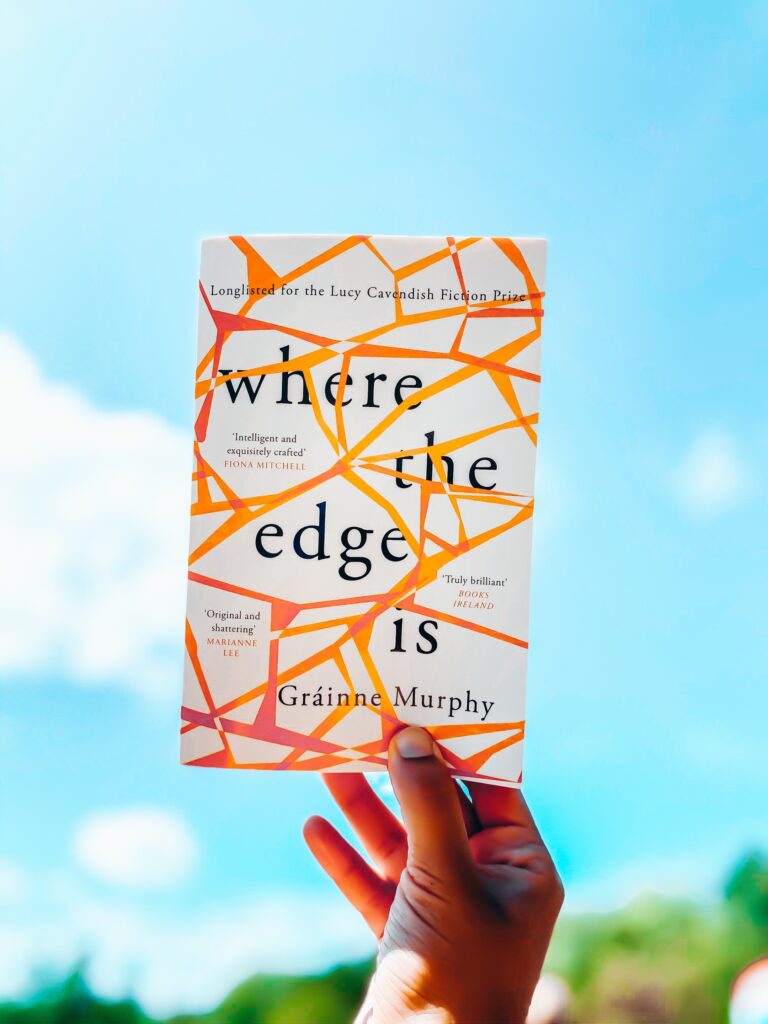 A sleepy town in Cork, Ireland, awakes to the news of a bus trapped in a sunken road with five passengers inside. As rescue teams rush to the scene, the bus sinks even deeper after two are saved.
The story revolves around several narratives including journalist Nina, rescue liaison Tim, and survivors Richie and Alina, while Ireland waits with bated breath to see what happens next.
My Thoughts
The premise of Where The Edge Is intrigued me and its description isn't entirely accurate as we learn about more than just Nina, Tim, Richie and Alina. They all undergo introspections while the rescue teams continue to work to save the passengers.
Although my further thoughts will sound overly and perhaps unnecessarily critical, the bigger picture of the novel's premise is an analysis of how such events can trigger anxiety and trauma which I feel is done well, even if slightly disjointed from the characters' experiences. The immediate response from the rescue teams, the political reaction and media spin paint an accurate picture of a story of mismanaged infrastructure that has gone wildly out of control. The unerring skill with which Murphy writes about journalists presenting the backgrounds of survivors, Richie and Alina, that influence and subsequently change public opinion on the cause of the sinkhole exposes the social conditioning from previous years and how far we've sunk as a society.
I felt I could engage more with Nina and Tim given their relationship with each other and they seemed to be fleshed out better as characters undergoing a trauma of their past isolated from yet still related to the bus accident. Their storyline was far more absorbing and evocative than that of the others.
Given their introspections and experiences, I was disappointed not to have more from Alina and Richie's character progressions and their storylines had enormous potential. There is some representation of a Muslim woman in the form of Alina and while it challenges certain stereotypes, I also struggled with her characterisation as a woman who had given a part of her identity up for a man. I felt it was unnecessary for her to be Muslim – she could just as easily have not been Muslim, Lebanese and made for a credible character struggling with faith and/or cultural identity; after all, that's a story of many women devoted to their faith. Nuns, for example.
There was some merit in challenging the idea that her ethnic background and her Irish culture are not mutually exclusive and that one can be both, as well as displaying public bigotry in her being under suspicion for terrorism as the cause of the bus accident. Yet again, I was perplexed by the conflation of Middle Eastern with Muslim and terrorism, and the question arises as to how any of these are linked other than through the Orientalist eye of surveillance and securitisation. I found Alina unlikeable and uncomfortable and I think that was due to my being able to reconcile her wilful choice of husband with her inability to confront him and her mother in-law for their remarks in her own home. There was a lot to work with, but she came across as unsatisfyingly passive.
Richie, too, has an interesting background but is, yet again, unlikeable and I do believe he could have been a fascinating character but his story arc was cut frustratingly short to do his character any justice.
Generally, I felt I could not appreciate these two characters, although I understood the messaging of trauma behind it all. I would have liked to have read more about Tim and Nina as their anguish and history brought a major tragedy to the fore in the wake of the accident which needed to be played out in more detail. As a reader, Tim and Nina's portrayal and handling of grief holds more realism and credibility than anyone else's in the novel.
Where The Edge Is holds a certain charm in its exploration of grief and trauma in the immediate aftermath of an accident, but it also struggled to hold my attention with some underdeveloped characters. Would I recommend you read it? I can't say no, as certain elements of the storyline will leave you with some food for thought.
I received my review copy of Where The Edge Is from Legend Press. It can be purchased here.
Publisher: Legend Press Ltd
ISBN: 9781789559415
Number of pages: 288